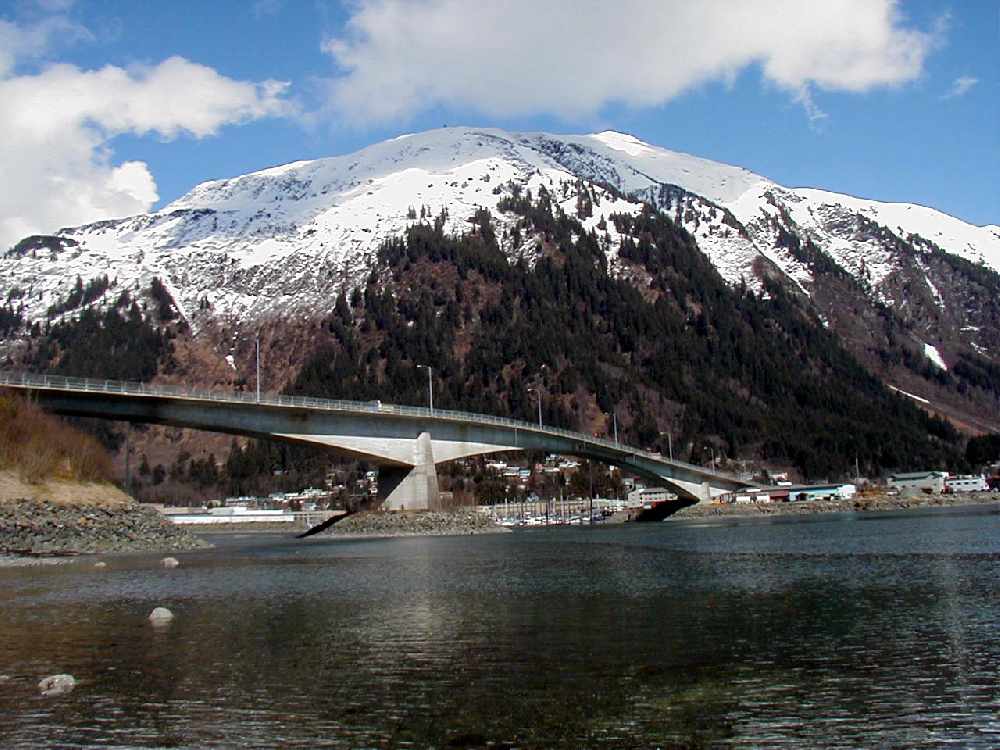 Resurfacing of the Juneau-Douglas Bridge and other parts of Douglas Highway are expected to begin in 2021.
Juneau, Alaska (KINY) - The Alaska Department of Transportation & Public Facilities held a public informational meeting Wednesday regarding improvements and a resurface of approximately 2.5 miles of Douglas Highway from St. Ann's Avenue to Egan Drive.
The work, slated to begin in 2021, includes upgrades to the roundabout and bridge surface. The project will repair various elements of the existing road infrastructure such as sidewalks and curbs, culverts and drainage and signage.
According to ADOT spokesperson Aurah Landau, the primary objectives of the project are to prolong the life of Douglas Highway's road surface, maintain adequate drainage features and bring the pedestrian facilities into compliance with the Americans with Disabilities Act.
The proposed improvements include reconstruction of pedestrian ramps, driveways and sidewalks, in order to be ADA compliant; Reconstruct 3rd Street from St. Ann's Avenue to I Street; Resurface Douglas Highway from I Street to Egan Drive; Resurface the roundabout and Douglas Bridge, and level existing bridge joints; Repair some structural retaining walls and replace damaged handrails; Upgrade highway guardrail and bridge rail.
Other upgrades would include sign supports, replacement striping, and upgraded drainage.
Landau added that the project is almost completely funded by federal dollars through the preventative maintenance program. The project is expected to cost approximately $15 to 20 million, including utility relocations, right-of-way acquisition and construction costs. The federal share of the cost is set at 91 percent.
Once construction begins it could last up to three years, but completion is expected in two years.
Landau said that, during construction, there would always be two lanes open for free travel between Juneau and Douglas, though re-routing of some lanes may be necessary.