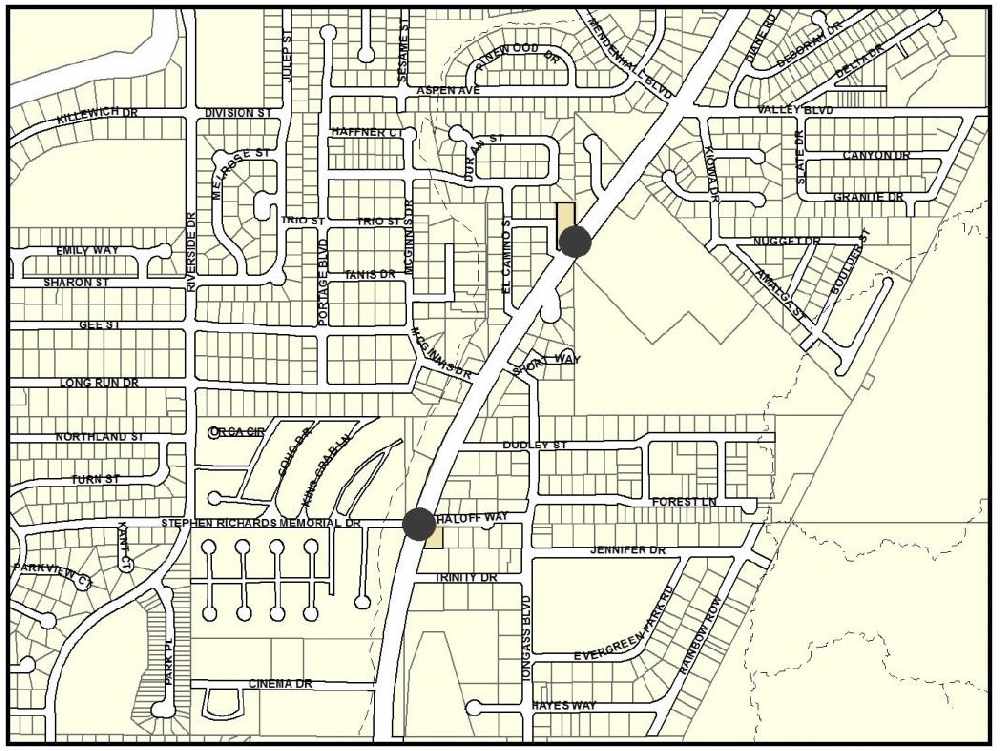 A city map shows the locations of the proposed roundabouts.
Juneau, Alaska (KINY) - The CBJ Planning and Zoning Commission voted 6-1 in favor of a city project review regarding a pair of roundabouts planned for construction in the Valley. Commissioner Dan Hickok was the no vote.
The proposed roundabouts would be located at the intersections of Mendenhall Loop Road at Stephen Richards Memorial Drive and at Floyd Dryden Middle School.
The Alaska Department of Transportation and Public Facilities has applied for the permit to build the roundabouts.
According to the CBJ Planning Department, public comments submitted through email were generally in support of the project. Specific concerns
included child pedestrians commuting between home and Floyd Dryden, as well as disruption to a local business. The CBJ said staff, in coordination with the applicant, was able to address these concerns.
According to Jack Manning, one of the owners of Duck Creek Market, the roundabout planned nearby would devastate his business.
"As of last discussions with DOT the plan has Stephen Richards closed from Loop for left hand turns, for a period of two months, June and July," Manning wrote. "As you can imagine this could be devastating to our business Duck Creek Market especially in the summer. We understand there will be a need for closures and delays during construction but to survive as a convenience store you must be convenient and accessible. Recently a roundabout was built in Auke Bay, all roads and access were kept open during construction, DOT felt it was important for the people and businesses of Auke Bay to spend the money for a construction traffic plan that kept the roads open. I ask the commission if the citizens of the Valley should be treated any different. We are looking for CBJ /Planning Commission to have an effect on DOT's construction traffic plan, one that affords the Valley residents the same consideration as Auke Bay residents."
According to ADOT's Christopher Goins, access to the market will be more difficult, but not impossible.
"To help avoid impacts to the business owners we have developed an eight-phase construction project plan, with four phases for each roundabout," Goins wrote. "During the last two phases of construction at the Steven Richards intersection left-hand turns will not be allowed into Steven Richards to avoid extensive backups on Mendenhall Loop Road for all other users. The elimination of the left hand turn during these two phase creates a longer route to get to Duck Creek Market, however access will still exist to the business but it will be through detours. Also, open business
signs will be in place to help people understand they are still open during construction."
In November 2012, voters approved the Alaska transportation projects bond question, "Shall the State of Alaska issue its general obligation bonds in the principal amount of not more than $453,499,200 for the purpose of paying the cost of state transportation projects?"
One year later, public meetings were held with opportunities for public comment. Input from these meetings and comments were used to form design concepts. The project scope has been reduced since the initial designs.
The initial designs were estimated to cost over $27 million and included improvements from Nancy Street to Back Loop Road. The current proposal is estimated to cost $8 million, excludes those boundaries, and has pared down the improvements. There is no estimate of when full project funding will be available.
Bidding should begin during the fall/winter of 2019, and construction will begin in 2020.
Mendenhall Loop Road at the Stephen Richards intersection currently consists of two lanes northeast and southwest bound, respectively, and one westbound, left-turn lane. Mendenhall Loop Road at the Floyd Dryden intersection currently consists of two lanes northeast and southwest bound,
respectively, and one center-turn lane. At both intersections, there are sidewalks and unmarked road shoulders on both sides.