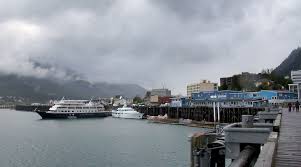 Juneau, Alaska (KINY) - The U.S. Transportation department announced nearly $1 billion in American infrastructure funding through the Rebuilding American Infrastructure with Sustainability and Equity, or RAISE, discretionary grants program.
Juneau had applied for the grant to electrify the two city-owned docks, the project had an estimated cost of 25 million, but it did not make the final list.
Port Engineer Erich Shaal observed that the grant selection committee focused on existing infrastructure that was failing or about to fail, and chose to fund projects that would rebuild infrastructure that was at risk of cutting off communities.
"I think that was always the premise with the build and then raise grants, Its focus on addressing issues with facilities that have already shown that they have been instrumental in the community. I also think that it has a lot to do with the planning for future funding, what we see now with the federal government with the new infrastructure bills, there's an expectation of billions of dollars going to different industries, and so, there may have been some forecasts decision making by the panel that selects projects that say, 'Well, you know, our electrification project is perfect for some new legislation that's about to come out.' So there's plenty of opportunities in the future now if those if the build back better infrastructure plan is passed by the Congress soon."
Haines received 20 million to replace the Lutak dock.
He said they will reapply every year as available. He said the Hanes project applied five or six years in a row, "So it definitely does take time, This is the first time we've ever applied for it."
Shaal says he is optimistic for dock electrification and says the department feels very strongly that the new directed funding towards Port electrification from the build back better bill may be the ticket anyway.