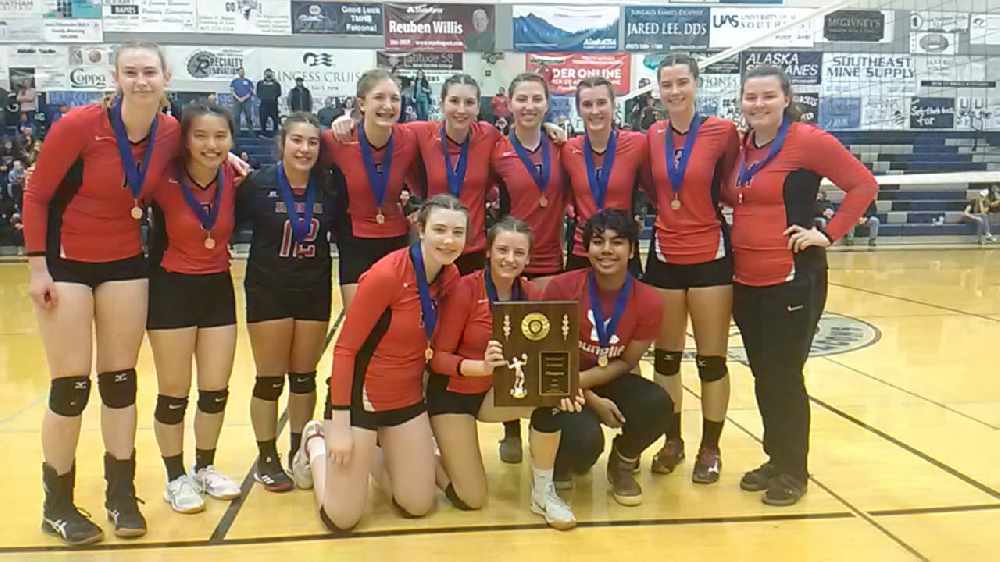 The 2019 Juneau Douglas Lady Crimson Bears volleyball team.
Juneau, Alaska (KINY) - The Juneau Douglas Lady Crimson Bear volleyball squad are the 4A Region V champions after dispatching Thunder Mountain on Saturday night.
The Lady Falcons took the victory in the regular championship game on a 3-1 (25-20, 25-20, 17-25, 25-19) final score. Juneau Douglas then took a 30-24 win in the "IF" game to determine the champion.
After being defeated by Juneau Douglas on Friday, the Lady Falcons won a redemption match against Ketchikan 3-0 (25-8, 25-14, 25-13) to advance to the championship game. The Friday loss to JDHS was the first time the Lady Falcons have fallen to a conference foe this season.
The first game began with the Lady Crimson Bears tearing open a 7-1 lead before Thunder Mountain head coach Julie Herman called a timeout. The Falcons then bounced back to win the set by five points. In the fourth set, Thunder Mountain rebounded for the win after trailing 10-4 to Juneau Douglas.
The Alaska state volleyball championship tournament is set for Nov. 14-16 at Alaska Airlines Center in Anchorage.
Brackets will be available later this week on asaa365.com.