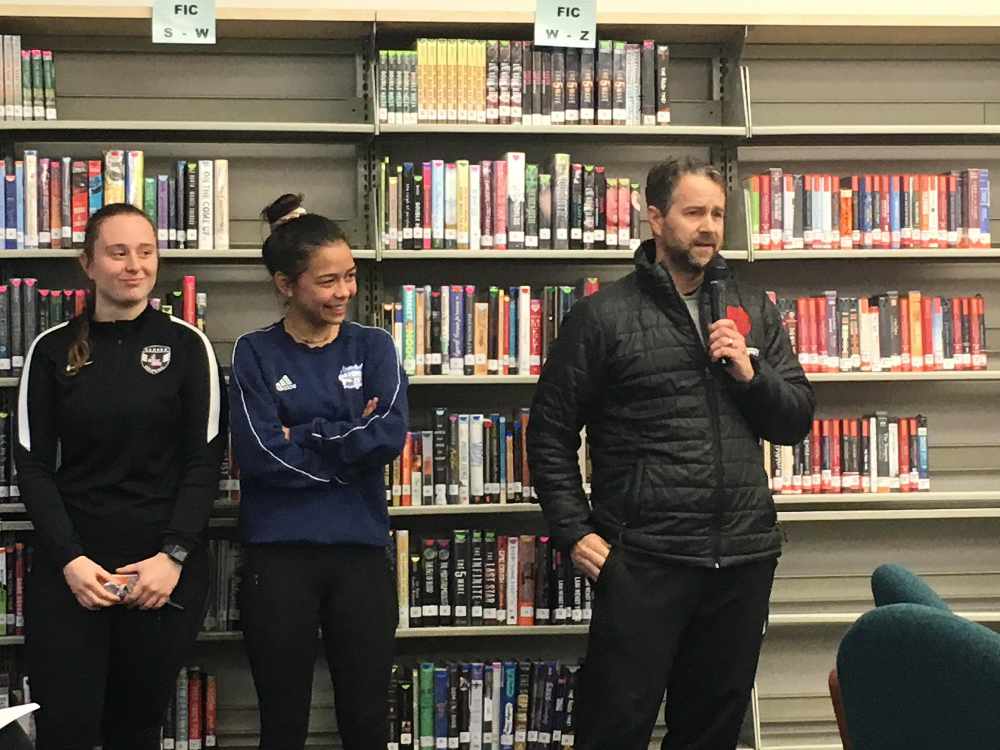 Girls soccer Coach Matt Dusenberry addresses the Juneau Board of Education
Juneau, Alaska (KINY) - The Board of Education also honored a state championship team and got an update on state education funding at the regular monthly meeting at Thunder Mountain High School.
The board ratified a three year contract with the Juneau Education Association. The agreement calls for a 1% raise in fiscal year 2020, a half-percent in 2021, and half-percent in fiscal year 2022. The agreement adds a teacher work day in fiscal year 2021 and an additional student day of instruction in fiscal year 2022.
The additional cost to the district amounts to $380,000 in fiscal year 2020, $759,000 in fiscal year 2021, and $1.138 million in fiscal year 2022.
"This is a major piece to the backbone of our working relationship with employees," Superintendent Dr. Bridget Weiss said, "We appreciate the efforts of the JEA and our management team."
It took 76 hours of bargaining to reach the agreement. "It was very productive. I think we are presenting a very good contract to you," Human Resources Director Darryl Smith said.
The board ratified a three year contract with the Juneau School Administrative Association. The salary increases mirror those of teachers. The agreement also provides for a $25 per month per employee increase for health insurance in fiscal year 2020, $20 month in fiscal year 2021, and $20 month in fiscal year 2022. The cost to the district will be $31,900 in fiscal year 2020, $60,700 in fiscal year 2021, and up to $76,700 in fiscal year 2022.
"Its a very critical group that guides the work. It is equally important to the other contracts. A collaborative process resulted in a three year contract. It signifies a large body of work this year to get to this point," Dr. Weiss added.
Smith said he felt it was a very good contract. He mentioned it increases professional development for administrators.
School Board member Dan DeBartolo said in the past these contracts were negotiated every year. He said three year contracts will clear up a lot of time for administrators and teachers
The board approved a list of deferred maintenance and small capital improvement projects for fiscal year 2020. The budget totals $1 million. The district has a total of $51.63 million on a list of large capital improvements, small capital improvements and deferred maintenance. The top priority for maintenance was boiler repairs at JDHS for an estimated cost of $125,000. Other priorities were $20,000 for stage set door repair at JDHS and $132,000 to modernize locks and doors at various schools.
The Board also honored the Juneau Douglas High School girl's soccer team for capturing the 2019 state championship.
Coach Matt Dusenberry said five teams from southeast made the state championship tournament this year. Thunder Mountain girls finished third in the tourney. JDHS only gave up five goals this year. The team set 14 state records. 38 girls participated in the girls soccer program this year.
"Our goal was to get better, we wanted to win, and collectively have fun. We got better each time we took the field," Dusenberry said.
Two JDHS players are in the running for the Gatorade player of the year award.
327 high school students participated in a recent thought exchange survey. It was designed to get comments on what teachers can do in the classroom to help students learn. The students shared 408 thoughts and 5,843 ratings in the survey. The top thoughts were teachers help students learn when they get to know the student as a person and not only as a student. Other comments were students have better success when the teacher explains the requirements or expectations for a project. It allows the student to prioritize certain projects or assignments better. Other comments were in favor of teachers that give an accurate study guide and give students chances for extra credit.
Thunder Mountain graduated a record 179 students on May 24. Scholarships awarded were over $400,000. Juneau Douglas graduated 135 students with over $300,000 in scholarships awarded. YDHS had 36 students graduate this year.
The state department of education will disperse $20 million promised to schools tomorrow for fiscal year 2019. Over $600,000 will come to Juneau schools.
The School Board will continue to meet on the second Tuesday of the month. They will move regular monthly meetings to the library at JDHS beginning on August 13.