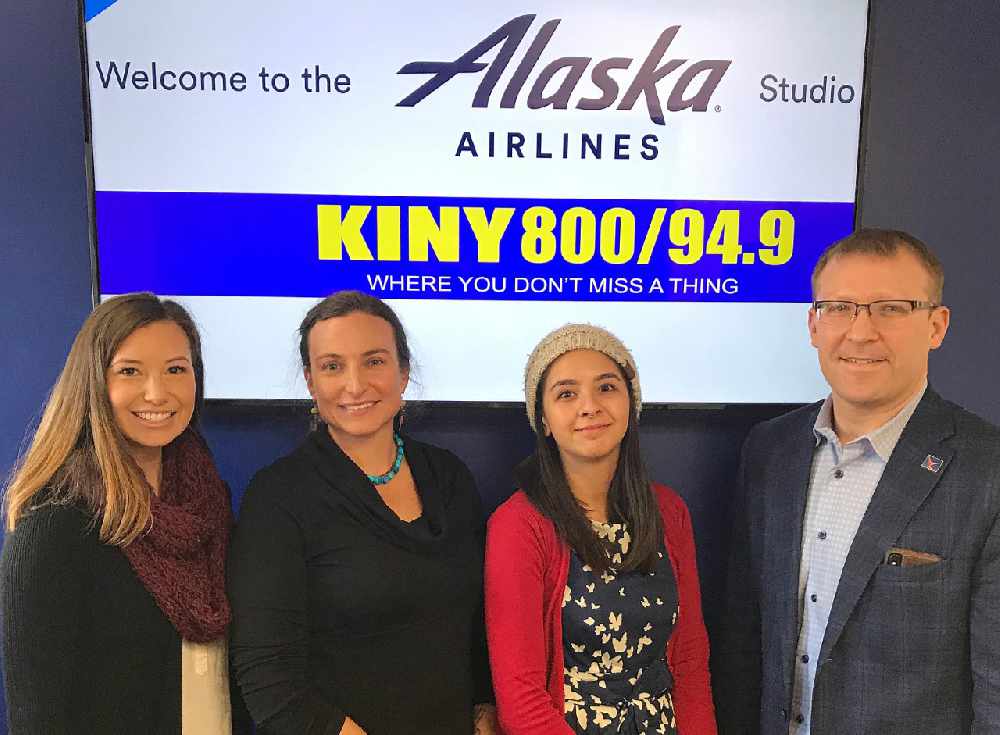 Sealaska Heritage Institute from left to right: Operations Officer Carmaleeda Estrada, Education Director Kristy Dillingham, Language Project Manager Jill Meserve, and Chief of Operations Lee Kadinger
Juneau, Alaska (KINY) - A lecture series sponsored by the Sealaska Heritage Institute and devoted tot he revitalization of indigenous languages starts up Wednesday.
The institute's education director, Kristy Dillingham, said on Action Line that University of Alaska Southeast Professor Lance Twitchell will be the speaker. She said his lecture title is "Shifting Value Systems: Indigenous Language Revitalization Strategies." "He'll be setting the overall foundation of the lecture series to kind of give our community an idea of what's happening with our indigenous languages and what efforts can be done in order to shift those values and to start thinking about different community partners. We're really looking at how do we support the language revitalization efforts in our school systems and what can we do with a different instructional methods and approaches to support the language."
The lecture scheduled for Monday February 3 will feature two speakers from Hawaii who will outline the approach of the Hawaiian Language Revitalization program.
The speaker for the Wednesday , February 12, lecture, comes from New Mexico to talk about what's been done there to enhance language revitalization
A fourth and final lecture scheduled is planned, but the date and speaker is yet to be announced.
All of the lectures are at 5 p.m. in the Clan House which is downstairs in the Walter Soboleff Building downtown.
Dillingham said the lectures will be videotaped and posted on the institute's YouTube channel. In addition, presenters will be interviewed for a podcast which will also be posted there.